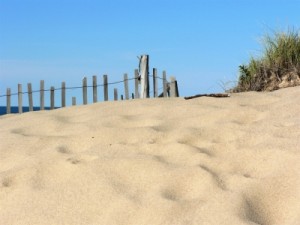 Provinctown bed and breakfasts
are located throughout this cute New England town at the very tip of  Cape Massachusetts, so choice in accommodations is what Provincetown is all about.  In some resort and vacation destinations you'll find one or two establishments that cater to the GLBT traveler.  In Provincetown the number is in the hundreds.  None of the  bed and breakfasts in Provincetown are exactly the same either. They are all as unique and different as the people that visit.
Perhaps due to being at the remote end of the Cape and because of its variety of beautiful scenes,  Provincetown has attracted artists of all types over the years  and is one of the oldest artist colonies in America. There is also the persistence of an attitude of tolerance, making Provincetown a preferred home and travel destination for many gays and lesbians.
"P-town", as it is sometimes called, also has an intriguing history as the first landing site of the Pilgrims and the place where the Mayflower Compact was signed. Fishing and whaling have also been a huge part of Provincetown's past.  Its large, safe harbor and prime location made it the Cape's fishing center, with thousands of ships calling it home port. The glory days of fishing are now gone and only a couple dozen ships continue the traditions but it has become a wonderful vacation destiny and a place to go whale watching.
Provincetown is also blessed with pristine beaches all around and dunes on the Atlantic side.  Race Point Beach has often made the lists of top beaches in America. It is also one of the few spots on the east coast where one can watch the sun set into the water.
So now is the time to come to Provincetown where you can enjoy a wonderful and comfortable stay at one of these unique bed and breakfasts while also enjoying the sun, entertainment, beaches and shopping.
Tags: bed and breakfasts, fishing and whaling, gays and lesbians, pristine beaches